Leaning and Field Notes
Hi, it's Dieter. This is the third newsletter issue of things I do and things I find. Hope you find something interesting in here!
I've rewritten this short piece several times over the last few months – somehow it just never felt like the right moment to hit send. Then, after weeks or months had past, what I wrote down wasn't accurate any longer and I had to redo the text. Well, I finally got to it and mustered the will to send this out. While I find a lot of charm in sending out emails in a regular mail client, it's honestly pretty exhausting to sort out all the details of editing and processing into a consistent format. That said, existing popular options such as TinyLetter didn't catch my fancy. This week I found a small service run by an independent developer called ButtonDown. It's nearly identical to TinyLetter, but has some nice styling features and isn't run by MailChimp. For the time being, I'm going to publish this newsletter to both this new service and to the existing emails here.
If you still feel like reading these letters, subscribe here: https://buttondown.email/inkering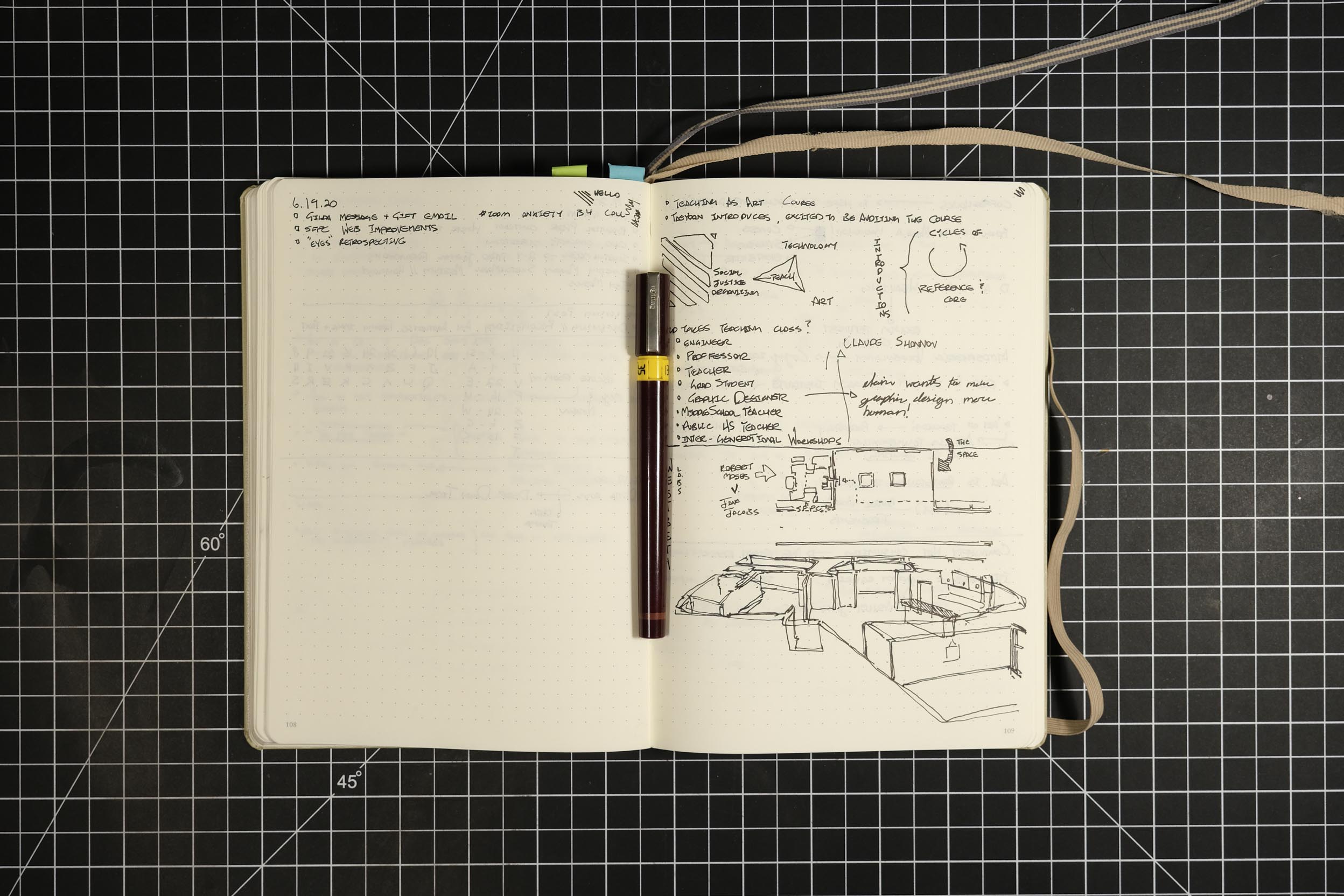 I spent the summer working for the School for Poetic Computation. I worked on several different projects, all with a lens of accessibility and creating paths for access for as many people as possible in a new and uncertain world of virtual schooling, which is completely new for SFPC. Through the process I learned about how to think beyond traditional schooling, how to question the definitions behind technology, and about how adults learn (particularly online.) In some ways, it was a continuation of my work in Paul Ruvolo's lab last summer. Part of my fellowship involved auditing several courses, including Teaching as Art. The students in the cohort and the wonderful teachers Ashley Lewis and Taeyoon Choi discussed the meaning of pedagogy, education, and teaching as artistic expression. To the extreme, we explored practical realities of being a full time teaching artist, and artists who found themselves filling that role before they even knew it. Although it was new territory for the School for Poetic Computation, we were able to offer classes from people's desks, living rooms, kitchens, bathrooms(!), yards, parks, and more.
In relation to my own practice as an artist, working among the organizers and teachers has been a point of growth and mentorship which I'll never forget. I'm thankful to be able to help the school with important, meaningful work while also forming an understanding of how education, and the world, could be.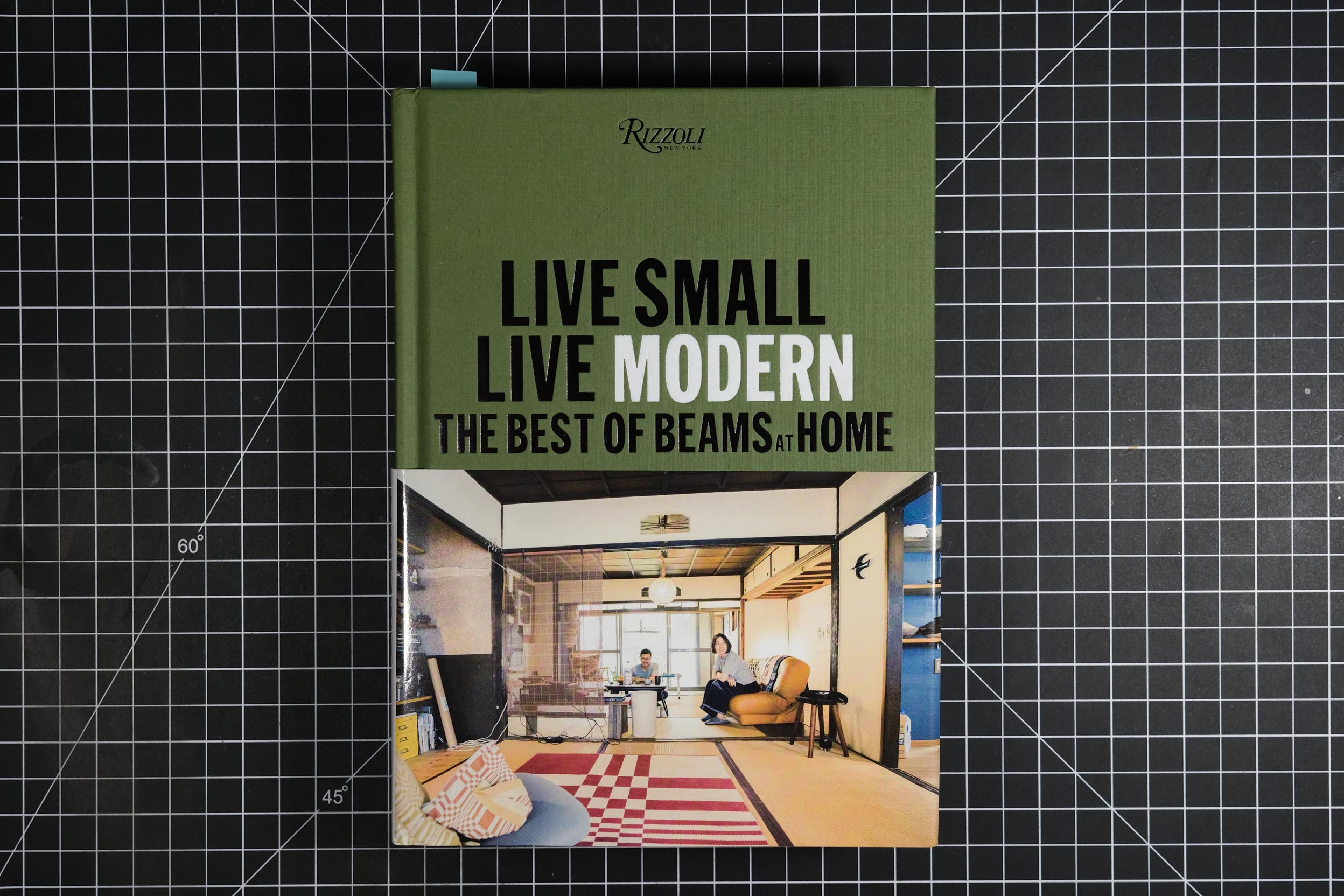 I've been reading live small, live modern: the best of beams at home recently as part of my hobby-study of interior design and architecture. Beams is a Japanese lifestyle magazine and company. However, this book looks at the homes of the editors, writers, and other staff working there. It features excellent printing and photography, great motivations behind interior design, and more.
When the printing and editorial style choices of a book match the subject matter in mood, experience, and feel, I'm really happy :). I will be using this book for interior sketching practice and my visual library for many years to come. Not to mention that green is one of my favorite colors. I feel that interior design is integral to the shape our lives traverse. <3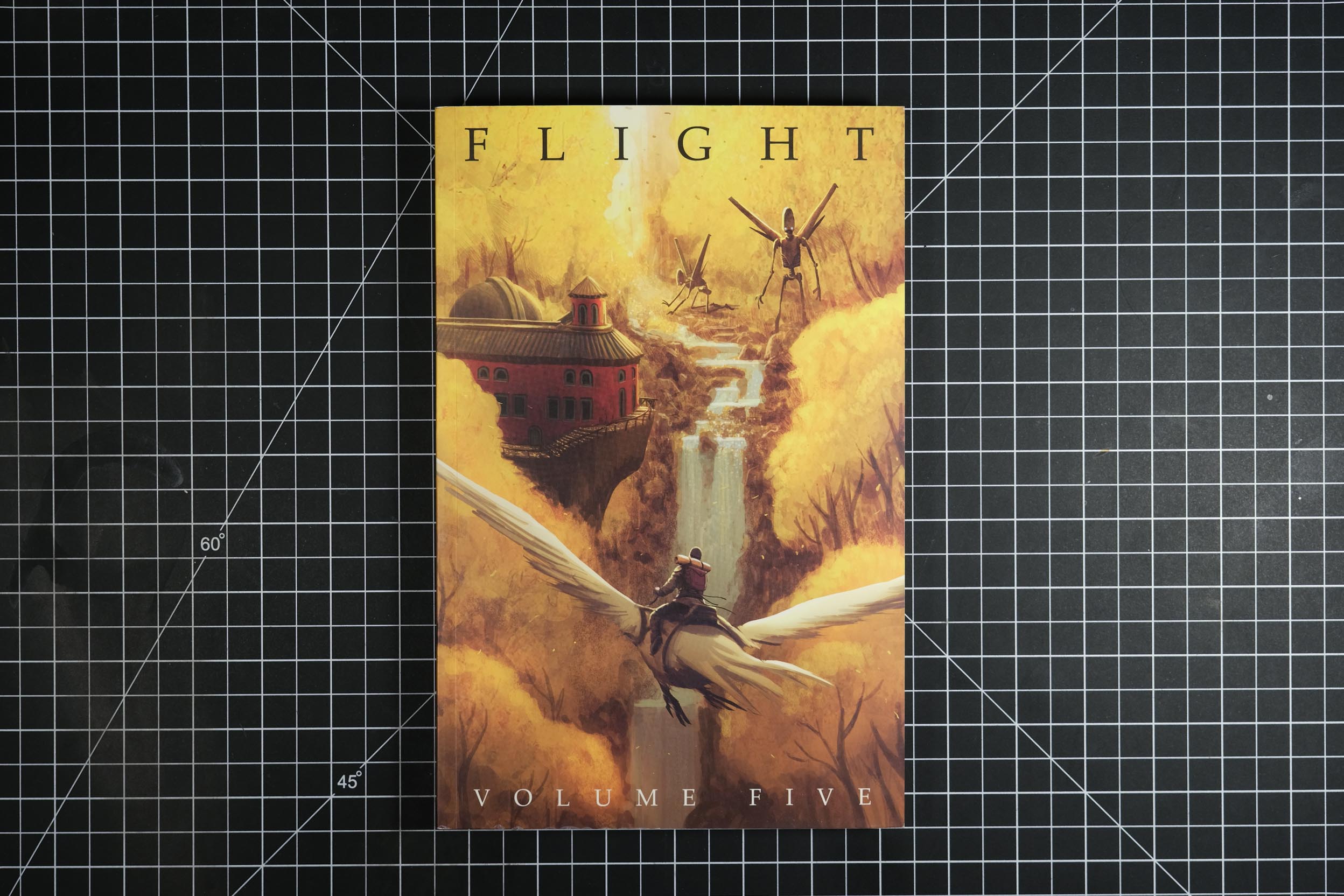 Flight is a comic anthology series I've had for a long time. It is a group of work that I look to when I need inspiration or when I have artist's block. There are several volumes, each containing short graphic novel stories by different up and coming artists. No story is alike, everyone has a different visual style, medium, or topic.
These came out many years ago, and many of the artists featured in the books are now flourishing in very skilled practices. It's satisfying to see the path they took to get there in the comics and short series work done in these compilations. I also get the pleasing nostalgia of when I first discovered them, of the memories surrounding my first read through.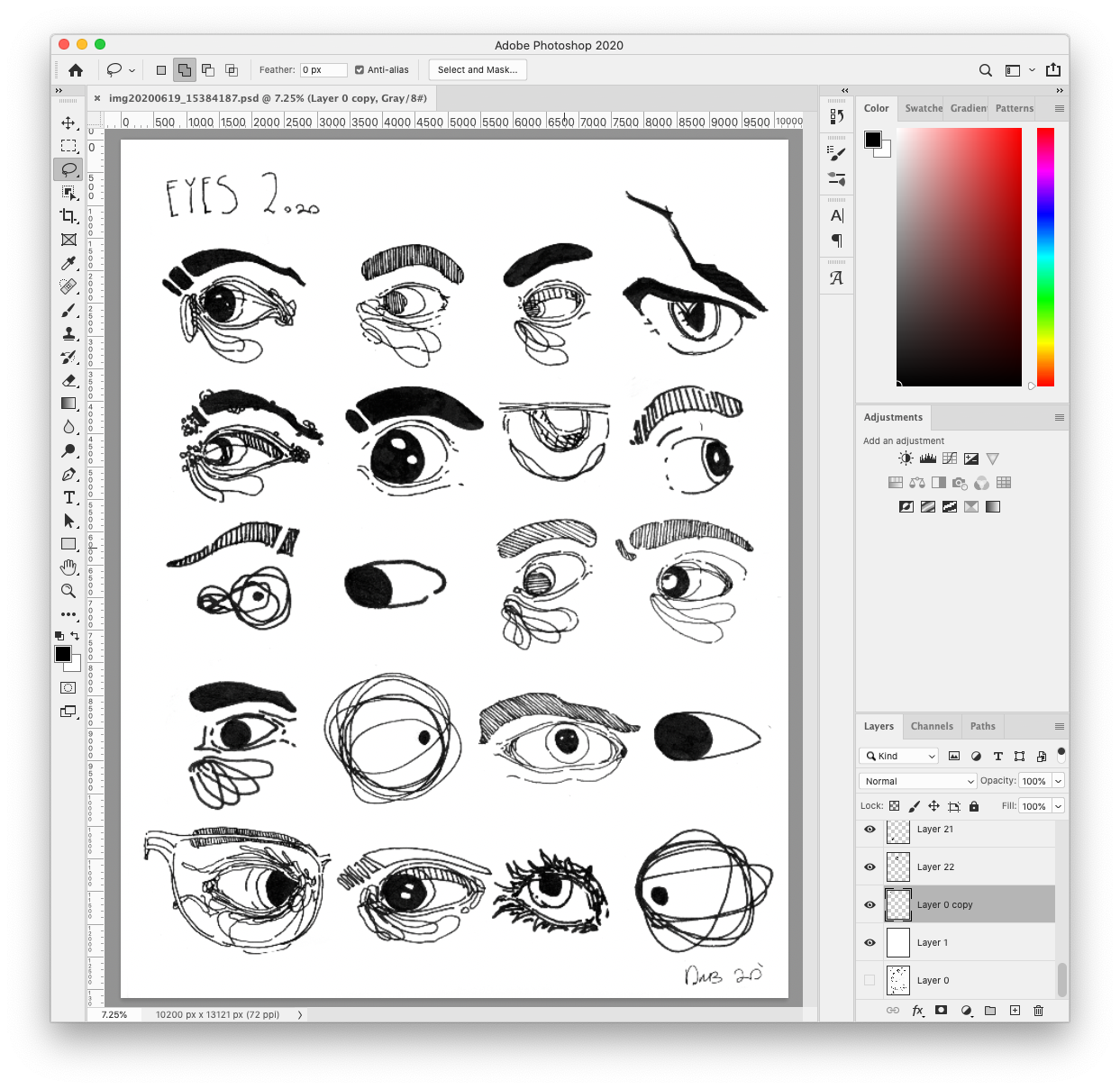 In the art world, I've been working on commissioned work, which is a first for me in this capacity and scale. It's an exciting project that I can't see to see out in the wild, and I can't wait to see how people see it in their own way. I am also taking time to explore personal work, including many sketches, one offs, and other looser work. I've learned that, sometimes, having less expectation for a piece can take it much further than one that has many criteria and goals.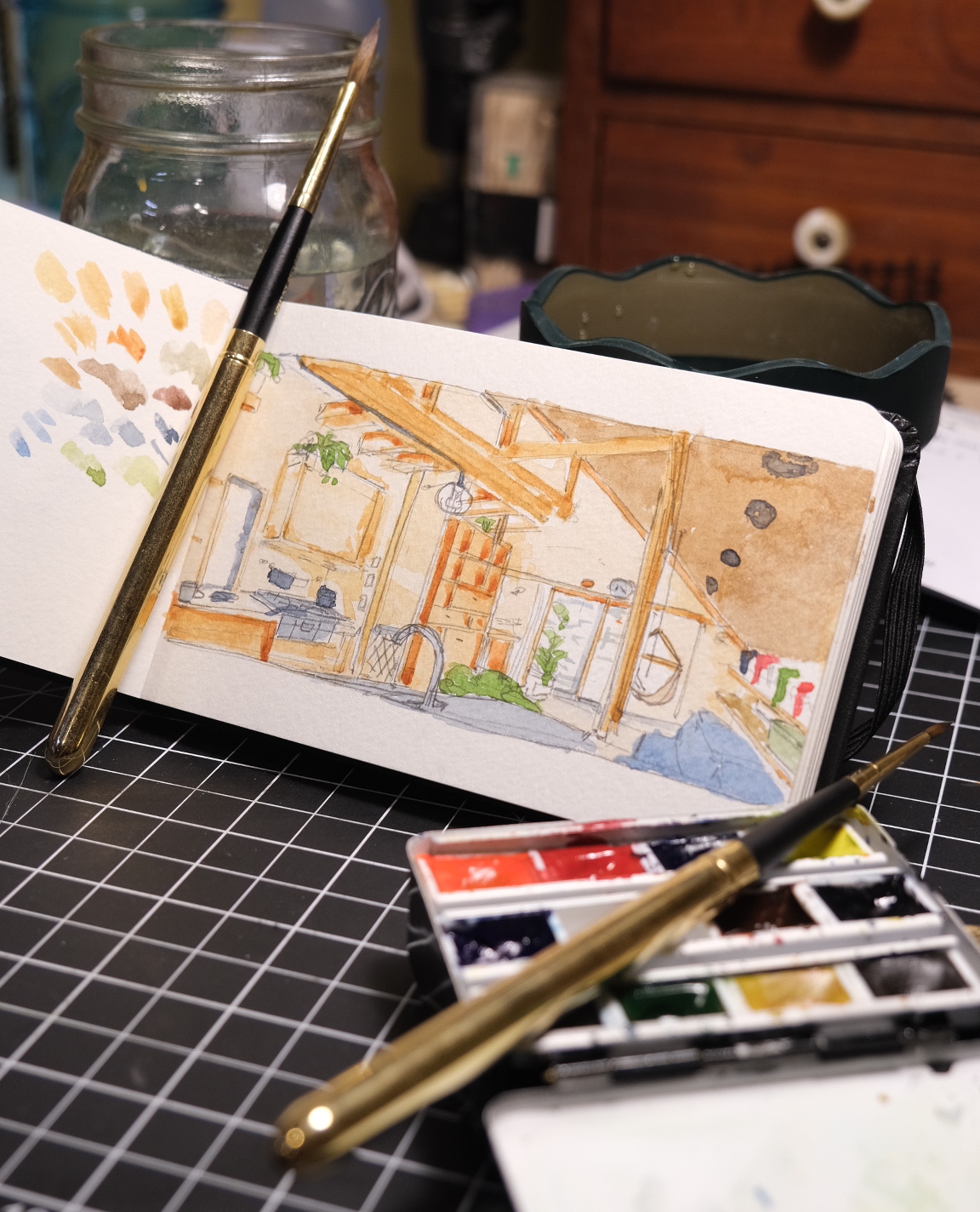 I've also been getting back into the world of painting and color. Many years ago I actually painted more than I drew with ink! In the next few months I want to return to these times and bring some inking knowledge with me as I wade back into color and form. Watercolor is always a satisfying but frustrating beast to come to peace with (because you WON'T conquer it.) The medium is both loose, well, liquid, and exactingly permanent when you make a mistake.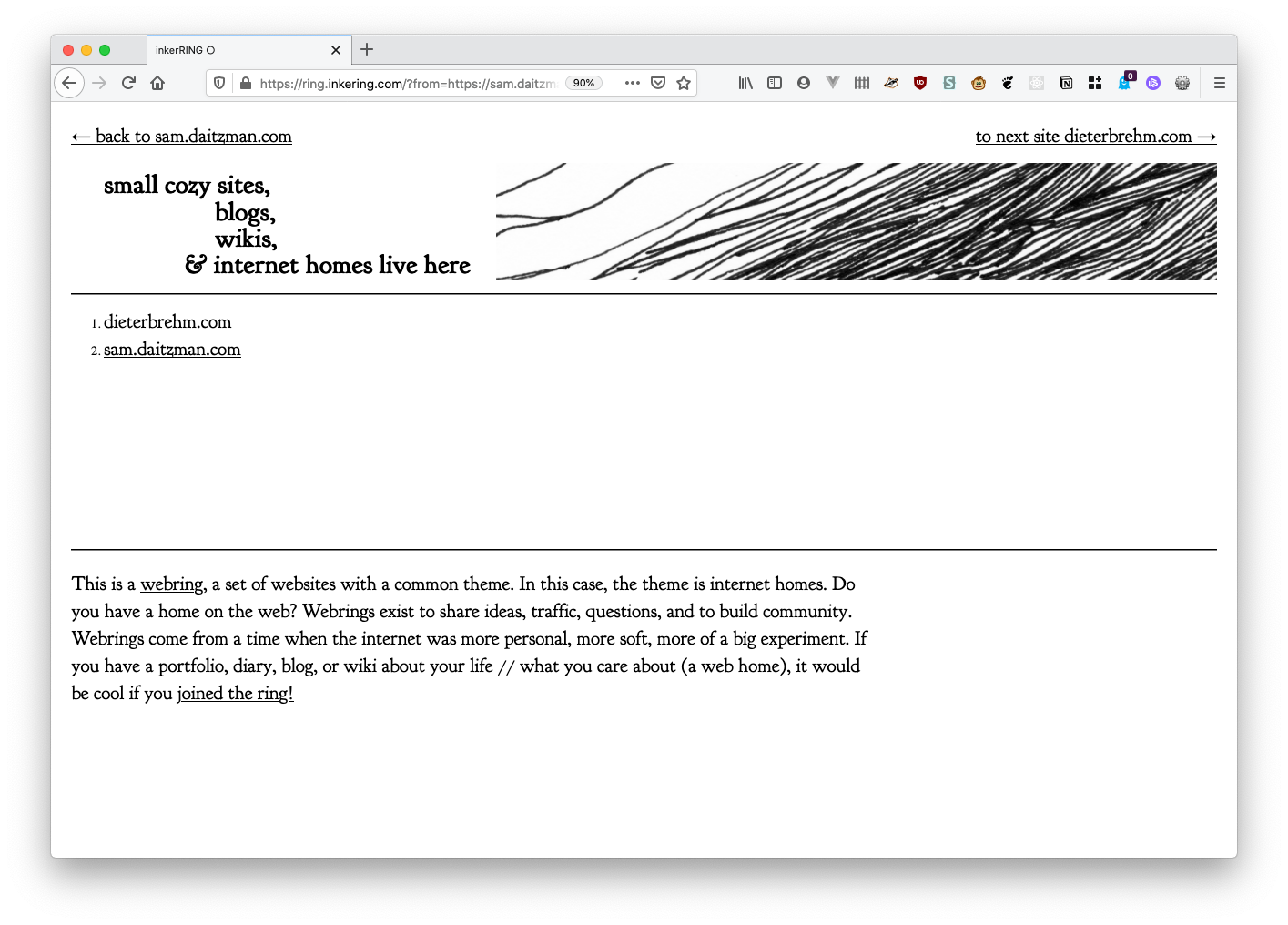 Sam and I have been working on a new website, a sort of resurrection of the "Web Ring" concept that used to be popular on the internet. It's a way of collecting websites and browsing them without the use of large search engines I won't name. Ideally, each site in the list adds a link to the next site in the list following it, and also a link to the site that houses links to everyone in the web ring. It's sort of complicated to make everyone add a specific link to the next person in the list, so we have a feature allowing for adding a "magic" link to a site and having it redirect to the next site. It'll work as long as this webring collection site is up. Get in contact with Sam or I if you'd like to join the web ring of cozy internet homes! We're also available to help set up pages, blogs, micro-content, or any other internet creation.
And if you've gotten this far down, I also read and looked at some neat things this recently:
Stay safe, creating, and well :)
Dieter B.